The Hellfire Club in Brisbane is a club with a "B&D/Fetish" flavour to it
We rely on public participation. That is, if you have something you would like to try, we have experienced Masters and Mistresses more than willing and able to give you a "taste" of what it is you seek.
All play is within the limits of those participating and safe words and signs are respected - play is stopped if "you" say so. The Club is held on the fourth Saturday of every month,regardless of the date, and there is a different "theme" every month.
But please understand, you don't have to be dressed in "theme" to attend. Usual attire is anything black.
Everyone is welcome to attend. Marital / partner status is irrelevant. The "one" rule, which is strictly enforced, is that no touching is permitted without the express permission of all parties. Basically, that means that it does not matter how someone is dressed, it is not an invitation to touch that person.
The club opens at 9:00 pm, but things start to heat upl about 10:00. As we said, we are an audience participation venue and you are *most* welcome to come along......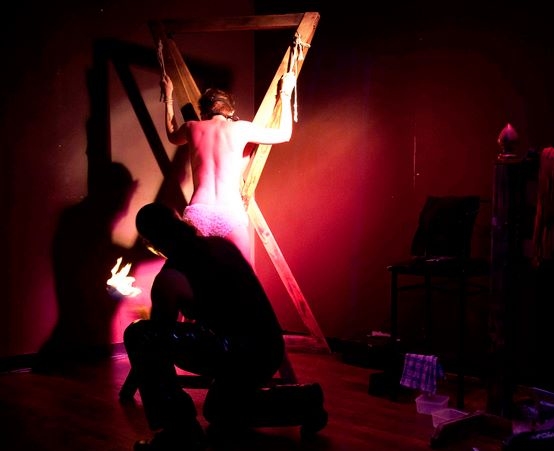 If you are going to attend a night at The Hellfire Club of QLD there are some simple rules that you should know to ensue that everybody has a fun night
We hold events catering to all sexualities. Hetero, Homo, Bi and Tran are all welcome. If you have a problem with any of these lifestyles then we ask that you do not voice them here.
If you are single do not turn up thinking that you're guaranteed a pick-up here. This is not a sex club, do not confuse it with a swingers club.... & the rule of no nudity is strictly adhered to.
People come here to feel at ease, amongst others with similar interests, especially the female patrons and if you harass then you will be shown the door. Consent is the key word. Unless you have a persons permission or the permission of their Dom, do not touch.
Prepaid Card (12 Events)
As of February 2015 we will no longer offer a yearly membership. Instead, you will be able to purchase a prepay card that will give you free entry to 12 events for $120.
This card lasts until all 12 spots on the card are used, however you choose to do so.
Cards will not be replaced if lost or stolen, so keep in a safe place.

2015 Party Dates
26 September....Back to School
24 October.....Hell-O-Ween
28 November....Toga Party
26 December....Kinky Xmas Party
The Hellfire Club of Queensland
Sportsman Hotel


130 Leichhardt St, Spring Hill QLD